Chair Yoga for Beginners Online Course
Yoga that meets you where you are.
Ready to start feeling good? 
Everyone is saying you should do yoga. But if you've tried some classes on YouTube or went to a yoga class and felt overwhelmed, lost, or felt like it was too much or too hard, you're not alone. Perhaps you had a more challenging yoga practice before but life changes and 100 sun salutations doesn't feel good anymore. Health conditions like arthritis makes it hard to place pressure on the hands and knees. Pre-or post surgery exercise makes traditional yoga classes inaccessible. If you're new to physical activity, racing through yoga poses and holding planks for ten breaths may feel impossible.
Chair yoga helps students get all the benefits of yoga – increased flexibility, more strength, better balance, and reduced stress by meeting students where they're at. Postures can be practiced safely and adapted for your energy levels and conditions. Chair yoga doesn't make yoga any less effective, it simply brings what seemed unattainable  within reach.
This course is ideal for  anyone new to yoga, chair yoga, or even physical activity. You'll get inspired to start your chair yoga practice from the comfort of your own home. In this course, you will stretch, strengthen, and relax your body and mind.
Once you enroll, you'll get instant access to 9 online chair yoga classes featuring seated, standing, and hybrid classes. Each yoga class builds upon the other so beginners can feel comfortable from Day 1. 
Plus, you'll get access to a library of how-to videos breaking down individual postures, transitions, and modifications so you can adapt the practice to your body. You'll also get access to a printable journal to help schedule your practice and reflect on how you feel afterwards. Members also get access to our online chair yoga community — a friendly space to connect with others
What To Expect in Your Chair Yoga for Beginners Online Course
This online chair yoga class includes yoga practices you can do at home and a printable planner and journal to help you customize your practice. Students can also access our online community for support.
Module 1: You'll learn how to set up your space and the basics of practicing safely. This module answers frequently asked questions to make practicing in your home easier. It also includes our printable Chair Yoga Planner and Journal to help schedule and reflect on your practice.
Module 2: Time to get started! This module features chair yoga classes that are completely seated. This is a great way to get started and focus on flexibility and strength in the postures.
Module 3: Work on your balance with the use of the companionship of the chair. While we warm up and cool down, a lot of the traditional postures will be done next to the chair using it for support and balance.
Module 4: These are longer classes with postures seated and standing. As you practice, they will notice the many benefits of doing the same postures with the chair in different ways with seated postures allowing us to focus on flexibility and alignment and standing has a heavier focus on strength and balance. By combining the postures in these chair yoga classes, students will be able to work their body in different ways.
Module 5: Need a different variation of the posture or a little more instruction? These short videos provide different modifications to make poses more accessible or challenging.
It was a great hip opener class. I liked how the chair gave me more of the ability to focus on the rotation of my hips and holding the poses without me having to worry about my strength to hold me up through the poses. Felt more of a stretch through the poses with the chair. I loved it!
Enjoying the stretch of the class. Great how to classes. Well presented.
Ms Leger is an excellent instructor who teaches every move clearly and concisely. She allows every move within your limitations. This chair yoga is good for my shoulder, legs and back. I have shoulder issues and doing these yoga techniques helped ease the pain to the point that I don't even take pain pills anymore. It also relieves some of my body aches . Highly recommended!
I have previous experience doing yoga yet still found myself learning new techniques from this course. In just 6 hours this course covers the essentials of practicing chair yoga comfortably, safety and surprisingly even at times challenging. Would highly recommend.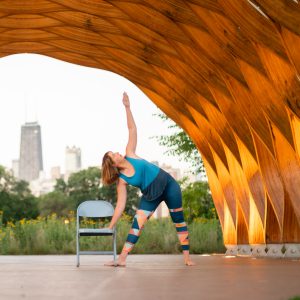 Melissa Leger is an MBSR and yoga instructor. She works with women, veterans, and the medical community to help decrease stress and incorporate healthier lifestyle habits. As a female veteran, recovering corporate professional, and business owner, she has experienced stress and the challenges it creates in overall health and interpersonal relationships. Through a practical and straightforward approach, Melissa facilitates wellness programs that focus on living fully in the present moment through meditation and mindful movement.
Melissa currently teaches mindfulness to veterans experiencing PTSD at the Road Home Clinic and offers affordable yoga and mindfulness programs throughout Chicago through various organizations. She has completed training programs through Mindful Academy International, Bloom Prenatal, Connection Coalition, Sunlight Chair Yoga, and Yandara Yoga Institute. She has been featured in the Chicago Tribune, Female Entrepreneur Association, Veteran's Path Podcast, and the Tampa Tribune. She does freelance writing and has been featured in Yoga International.
Melissa holds an MBA from the University of Tampa and a BS in Business Management from the University of Tampa and is the owner of Kindpact.
It's Never Too Late to Start Yoga
We have met so many people who felt like yoga was not for them. Perhaps it was age, physical abilities, energy levels, or simply too much woo-woo. Our chair yoga classes were designed to help people feel good, de-stress, and move in a way that is empowering. You are welcome here. You have the ability.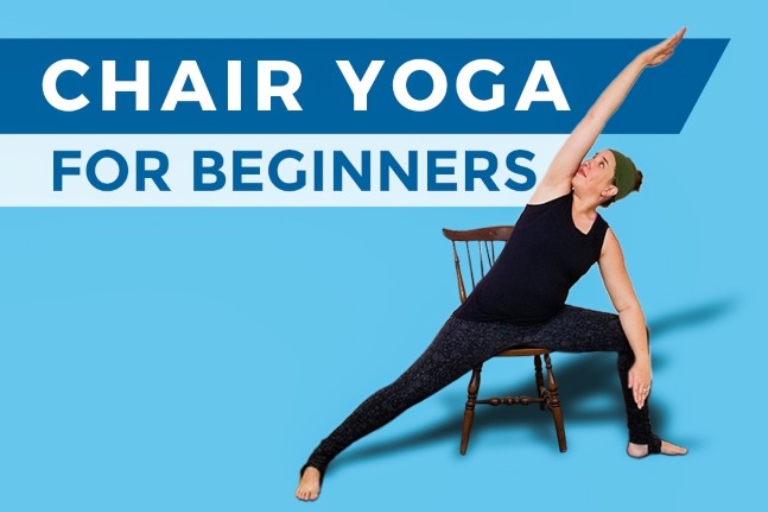 Frequently Asked Questions
Yoga mats are not required but we definitely recommend having a non-slippery floor so it is highly encouraged to have one. We also love props and in Module 1, we will review them but we will also go over substitutes. It could also be helpful to check out our post on recommended yoga mats and supplies.
Doesn't matter. We encourage the least flexible people to start with us. Yoga isn't for flexible people, it helps you increase your flexibility no matter where you are at.
Absolutely not. We review postures and techniques and focus on being kind to ourselves. The meditation we practice is mindfulness meditation and we practice in a secular format. Our focus is to help you relax, stretch, and strengthen your body and practice a little self-care.
Make an Impact on Your Health Today